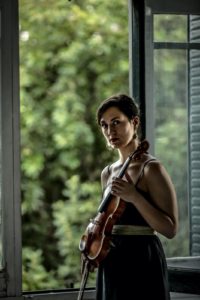 Based in Madrid, Blanca Fernandez performs as soloist, orchestral and chamber musician in Spain and throughout Europe. She presents herself as a versatile musician, playing repertoire from period to contemporary performance.
Recent solo performances include appearances with the Orquesta de Cámara Andrés Segovia as the winner of the Juventudes Musicales scholarship competition, Orquesta Iuventas or Orquesta UPM. As a soloist Blanca has been awarded several prizes such as the Santander UK Universities Award or the first prize in the Stratford Music Competition. She has recorded life for both Televisión Española and Classical Planet and has been interviewed by Cadena Ser. She performs chamber music regularly as a member of Trío Mosaicos and the contemporary music group Ensemble Sonido Extremo. Some performance highlights include appearances at St. Martin in the Fields, Astona International (Switzerland), Aurora Festival (Sweden), Wigmore Hall String Quartet Festival, Auditorio 400 Reina Sofía, Gaulitana Festival (Malta), Teatro Colón (A Coruña) and Teatro Real in Madrid.
Blanca plays regularly with the Orquesta de la Comunidad de Madrid and has wide experience as an orchestral musician, appearing with ensembles such as the London Symphony Orchestra, Schleswig-Holstein Festival Orchestra and Spira Mirabilis, under the direction of Valery Gergiev, Gordan Nikolic, Michael Sanderling, Sir Colin Davis, David Newman, James Gaffigan and Christoph Eschenbach amongst others.
Born in Madrid in 1991, Blanca finished her Master's degree in violin performance with distinction at the Royal Academy of Music London in 2015 with Maurice Hasson. She completed her Bachelor's degree in 2013 under the professorship of Detlef Hahn at the Guildhall School of Music & Drama. As well as learning the violin, Blanca has pursued studies in viola with Professor James Sleigh at the Royal Academy of Music as well as baroque violin with Pavlo Beznosiuk, playing with the Academy of Ancient Music and taking part in the Festival de Música Manuel de Falla, Granada.
Her studies have been generously supported by the Royal Academy of Music, Juventudes Musicales de España, Banco Santander, The Community of Madrid, Sociedad de Artistas Intérpretes o Ejecutantes Españoles (AIE) and Astona International in Switzerland.She has also studied with Prof. Lorenza Borrani in Fiesole, Florence, and Prof. Ida Bieler in Graz.
Blanca has been the Artistic Director of Festival Luigi Boccherini from 2016 to 2019. She currently teaches at Ferraz's Conservatoire in Madrid, as well as a Bachelor's Degree in Escuela Superior de Música de Extremadura.
Blanca plays on an Andreas Hudelmayer violin from 2011 and an Emmanuel Carlier bow.